With a cool rock hairstyle, a bright Chinese flag mobile phone shell, a sky blue Scania logo shirt, dark trousers, sitting in the deepest place on the second floor of Scania Guangzhou Sales Service Co., Ltd. (SSSG), he greeted me warmly and began to tell his Scania story and his understanding of the market and customer service. While I was lucky to get answers to all my questions, I was more inspired by his enthusiasm, professionalism, inspiration and wisdom. He is Hans Hansson, general manager of SSSG—a real Scania.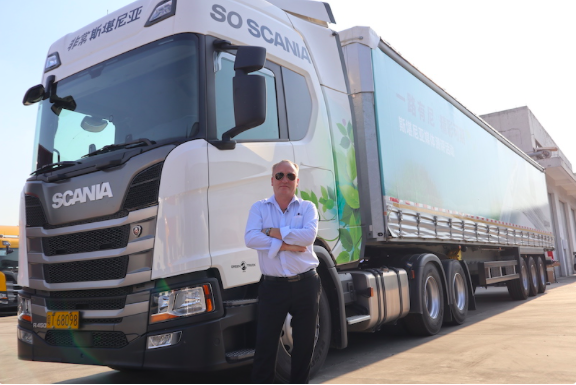 The Real Scania
In fact, Hans, who has been working in Scania for 30 years, came to China as early as 1999, when he worked in Taiwan, responsible for maintenance, helping the body builder adapt to modification, training maintenance technicians, and assisting the Hong Kong and Shanghai representative offices at the same time. Later he moved to Shanghai.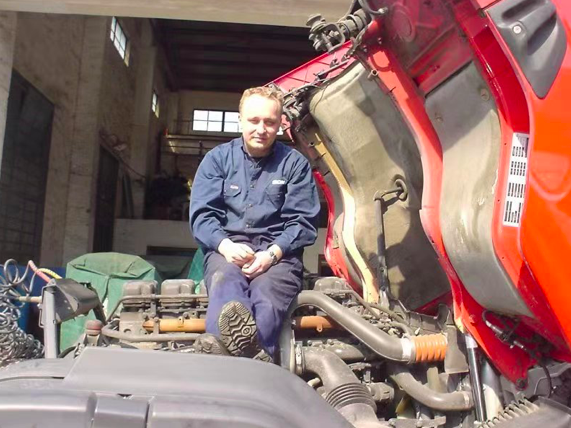 The picture of his working in Shanghai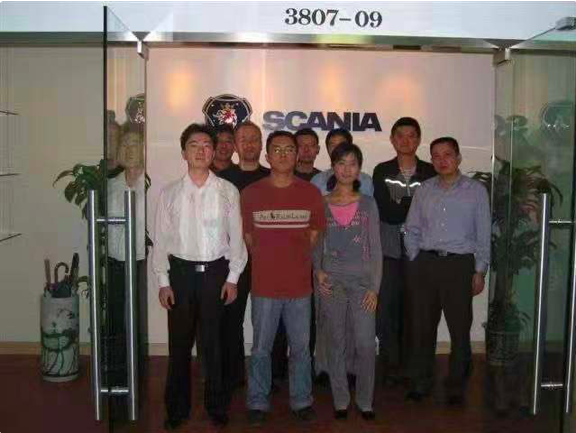 The picture of his working in Shanghai
A one-year contract turned to 6 years of continuous work in China, then he felt he need a break for accompanying his family and traveling around the world, so he returned to Sweden.
However, Hans' personality determines that he enjoys challenges. Just after one year and a half of transition and adjustment, he came back to Asia, as after-sales service director of Scania Southeast Asia, and began to live in Kuala Lumpur, Malaysia. Although traveling among 10 markets in Southeast Asia nearly every week, he was quite happy to play his professional expertise, again, 5 years later he returned to Sweden for another rest.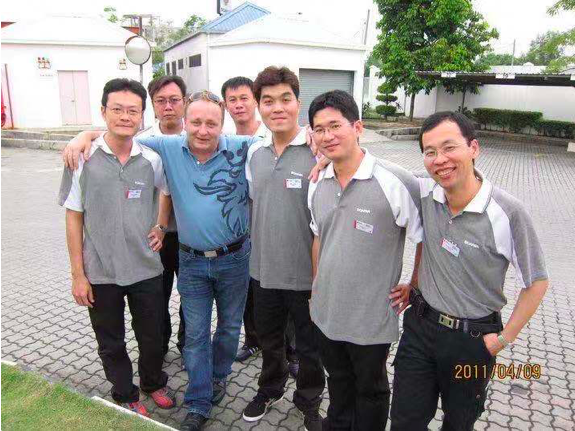 Hans at the Scania Top Team event in KL,Maylasia
Just like a loop, only one year later, Hans received a new invitation from the general manager of Scania East Africa, then set out again to Kenya to support expanding Scania's market in East Africa. According to Hans: 'East Africa includes Kenya, Tanzania, Rwanda, Congo, Somalia and many other countries. When I went there, Scania built new facilities and expanded its network. Now Scania's market position and share in East Africa are extremely high, even up to 53% for buses. In Tanzania, one in five trucks is Scania.' Scania has set up an assembly plant in Tanzania, and Tanzanians even say like this way: 'I'm Tanzanian, and I drive Scania truck, so you can see how strong Scania brand is there.'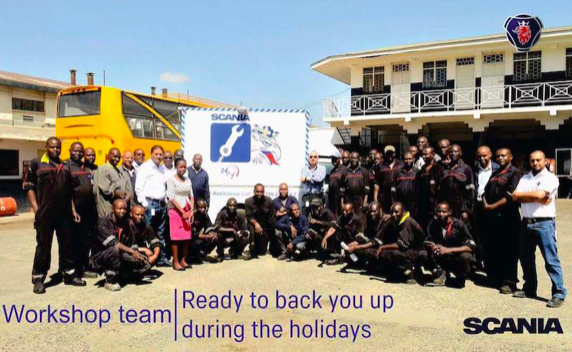 Hans working in Africa
One day in September 2018, while still enjoying the summer vacation in Sweden, Hans received a phone call from Steve Wager, then general manager of Scania China. The well-informed and well-appointed Steve offered Hans a new challenge, inviting him to work as general manager of SSSG, and return to the Chinese market where he had once 'fought'. Hans was so excited when he received the invitation, and after more than 20 years in after-sales service, it was a good challenge now to do truck sales and get the whole picture, so he could play in a wider field. Of course, he accepted it with confidence.
Although he forgot a lot of mandarin after returning to China, he was shocked by the high speed development of Guangzhou. Hans, who was still doing his wife's ideological work before their departure, came to Guangzhou with great surprises. Now Guangzhou is like Hong Kong at its best, and everything is better. Hans and his family have lived in Guangzhou for five months.
Creative management of captive dealer
Scania's personality is reflected in all aspects, not only products, but also marketing channels. Captive dealer is a major feature of Scania. In Europe, the proportion of Scania captive dealers is very high, while SSSG, the only one in mainland China was established in 2013. As for the advantages and demonstration role, Hans, this 'real Scania' naturally has a lot of words to say: ' Our lead time is much shorter to communicate and take decisions between Scania china and SSSG. In our case, we can implement the standard now, and then we can tell other dealer what is working.'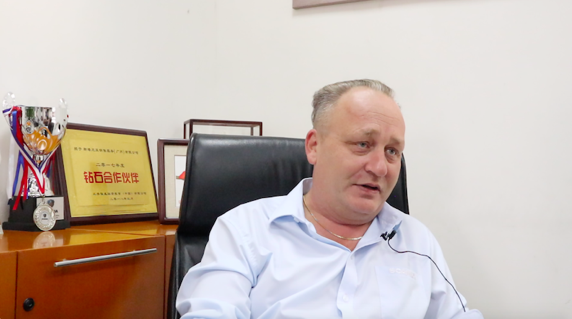 According to Hans, he reports to General Manager of Scania China for about two hours a month, and usually receives feedback the next day, then he conveys to all employees of SSSG.
During the talk in the whole afternoon, this new general manager of SSSG was not eager to show his declaration or vision during his tenure, but more to express Scania's sustainable development and his creative insights on the Chinese market.
According to Hans, the whole Chinese truck market in 2019 is not very good, especially the retail of tractors. Many of his customers are hesitant about whether to buy 6 X 2 or 6 X 4 model after the implementation of the new high way fee regulations. He thinks this topic is very interesting. He uses the data of Scania fleet management system—FMS to support his idea. From the data, customers are still confused about the choice of models, and many vehicles are not fully loaded. So he commented:' We can completely solve the problem by optimizing vehicles, especially express e-commerce customers, the weight of goods is very light, China has such a great highway, why not use two or three trailers? It can also solve the problem of driver recruitment. I hope that in the future, the regulations will allow. One tractor, one engine, one driver, which will be a better solution for the growing demand of freight, and customers will benefit more.'
Hans is quite confident about Scania's development in the Chinese market with saying: 'China is a huge market, and Scania is accelerating its business in China. While demonstrating corporate responsibility to customers, we are transforming through sustainable development. Scania has a history of more than 125 years, and China has a long history of 5000 years, Scania hopes to become a model in the history of China. Scania focused on the Chinese market and now we have a great team in China and are growing sustainably in the Scania way. I expect sales to double or even more as I see it.'
Help customers understand the value of TOE
Hans believes that for trucks as a means of production, although customers will talk about price, the top two key factors are uptime and fuel consumption, at the same time, the service network behind them is very important too.
The total operating economy (TOE) that Scania advocates is something that Hans uses every day in his job. 'I use both TOE and TOC (Total operating cost), and they complement each other,' he said. Hans believes that the most important thing for customers is to fully use this tool by understanding the value. He explained:' We need to communicate with customers and understand their problems. FMS can help us understand their fleet operations in advance, understand vehicle records, and then we can propose solutions for our customers. '
He continued to add: 'We know a customer more by FMS, this is another way to approach a customer. Perhaps they will buy a truck on the internet in the future, with optional color and configuration. The finance will be approved by income or business case maintenance. Maybe we don't need a big workshop. We might need to have small workshops on the highways, which is close to the customers for maintenance. '
When it comes to cost, Scania can help customers achieve greater returns by helping them make better use of capital and management, purchasing the right vehicles, and developing sustainably. If customers can't master these, even if they get the revenue, they will not be able to achieve the desired profit because of improper cost control. For example, maintenance, Scania has professional space, professional people and professional equipment.
30 years, still as the first time!
This year marks the 30th anniversary of Hans' serving Scania. It was a coincidence that he joined the company. He was supposed to be a passenger car mechanic by profession, but his brother joined Scania. He was not interested in trucks until he saw that his brother looked very cool. He was envious and he wanted to be the same. And he could also work together with his brother in Scania. Fortunately, he found that he gradually became enthusiastic about Scania, which gradually helped him develop his Scania way of working. Although there were many other temptations in the past 30 years, Hans always believed that excellent service was what he liked and longed for, and he also longed for the future of Scania.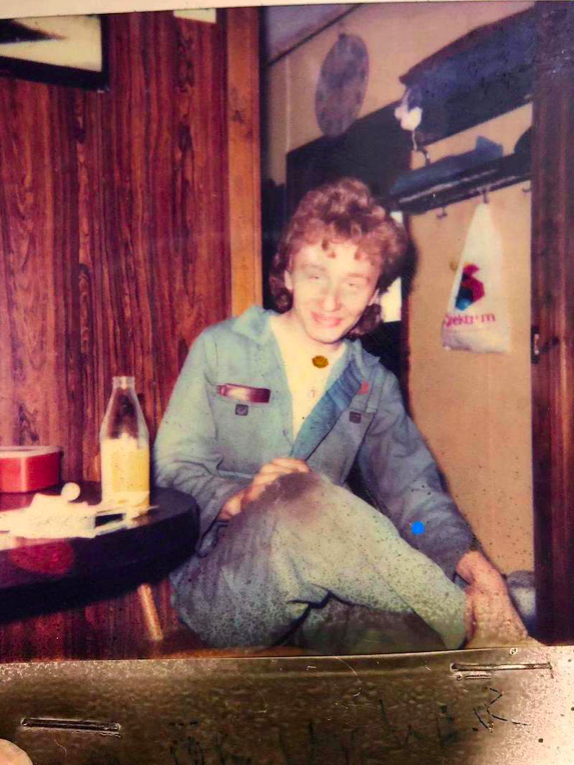 The time Hans joined Scania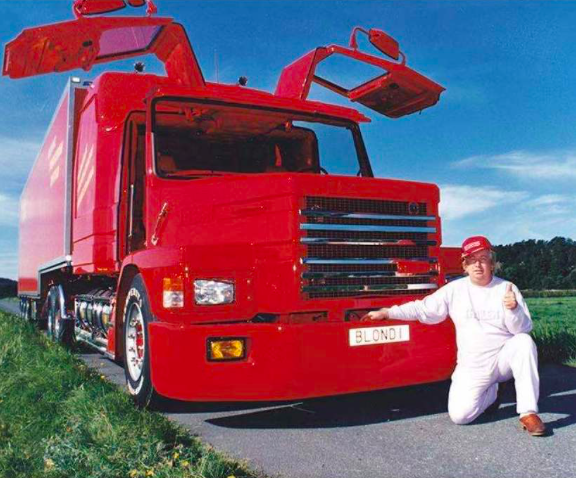 Speaking of which, he graphically described to me how he had just seen Scania's official release of the new autonomous truck, the AXL, which he described as cool and robust gladiator. He said that everything about Scania had fascinated him for the past 30 years and that he was impressed with every new truck launch. When he joined Scania, it was just after the launch of the three-series truck, and then the huge cab of the four-series made him feel the great changes of Scania, which was never so special to him. The next generation Scania was launched in Paris in 2016, which made him feel it like a national event for the place of Paris Climate Agreement, demonstrating Scania's wisdom. Now, NTG sales in China continue to rise, and for two consecutive years in Europe's famous 1000 point competition, it won the championship. The first NTG customer in southern China— Jinlai logistics technology, recently bought another two NTG, shows the popularity of NTG.
Now, Scania's National 6 products are in full preparation, Hans believes: 'Scania has the relevant experience, products, components, technology. What we need is better communication with customers, so that customers can understand the correct maintenance, use the right oil products, filters, ad blue and so on.'
At the closing ceremony of the So Scania media evaluation event held in Guangzhou on September 26, the front row of the exhibition car showed a row of Saabs with Scania flavor, and in the middle parked a rare Scania three-series bonnet truck, which was the so many 'Hans' of Scania in their way to show the feelings and Griffin charm of Scania!